The Clinical Trial Unit Planner (CTUP) module from Your Research is new software making daily complex clinical planning a breeze.
Retain a firm grasp on all study activity at your site from one dashboard
Save time and cost by optimising resource allocation
Improve participant retention and protocol adherence with automated communication
The CTUP on the Your Research platform offers:
An overview of all studies, visits and resources in one easy to use dashboard
Drag and drop patient visits, as well as allocate resources from one centralised point
Forecasts peaks and troughs in activity and plan resources accordingly
Automate personalised patient visit reminders, schedule post visit questionnaires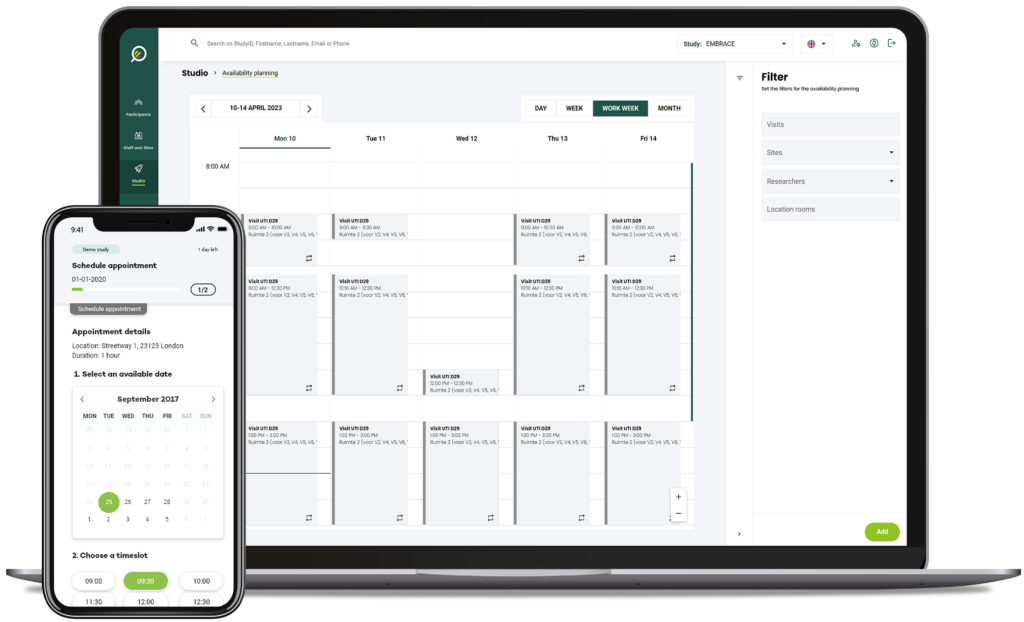 From the Clinical Trial Unit Planner dashboard all reservations and resource availabilities can be set up, viewed, and isolated and filtered by specific study.
Resources can be recorded and allocated from the CTUP at one central point and used within the studies.
For example, a specific clinical examination room can only be booked once per time slot for the multiple concurrent running studies within a clinic. So, whilst the studies and related patient visits overlap, the room can only be booked once at one specific time, eliminating double bookings.
When registering a resource and its availability, a start and end date can be selected and a block out day or part day can be selected.
The clinic status "forecast" can be used to gauge volume of activity, offering valuable insight in to how many clinicians and or additional resources may be required during peak and trough times.
This function greatly assists the research team optimize resource utilization, saving money by allocating appropriate resources in an efficient manner, ensure compliance with the protocol, and ultimately improving patient safety.
The CTUP automates patient communication by integrating with the electronic medical records (EMR) system.
For example, the platform can send appointment reminders a day before the scheduled appointment, medication reminders at specific intervals, adverse event reporting instructions in case of any adverse events, and follow-up surveys after a patient visit.
The CTUP offers a central point to customize the automated messages to suit the trial protocol and patient population. These messages can be personalized with patient names, appointment dates, and other relevant information and then monitor patient responses. For example, the platform can track which patients have responded to medication reminders and which patients have missed their appointments.
The clinician can then follow up with patients who have missed appointments or have not responded to medication reminders. The follow-up can be done manually or automated through the software platform.
A clinician, PI, or similar can from one central digital platform:
View clinics entire agenda: day, week, work week, month
Zoom in on the agenda to a day or hour, up to 5 minutes in detail
Schedule patient visits from a month overview whilst viewing other study visits and available resources
"Drag-and-drop" appointments from the reservation overview
Delete appointment directly from the reservation overview
View clinic calendar in a full screen mode which can then be projected on to a large screen to discuss in a team meeting