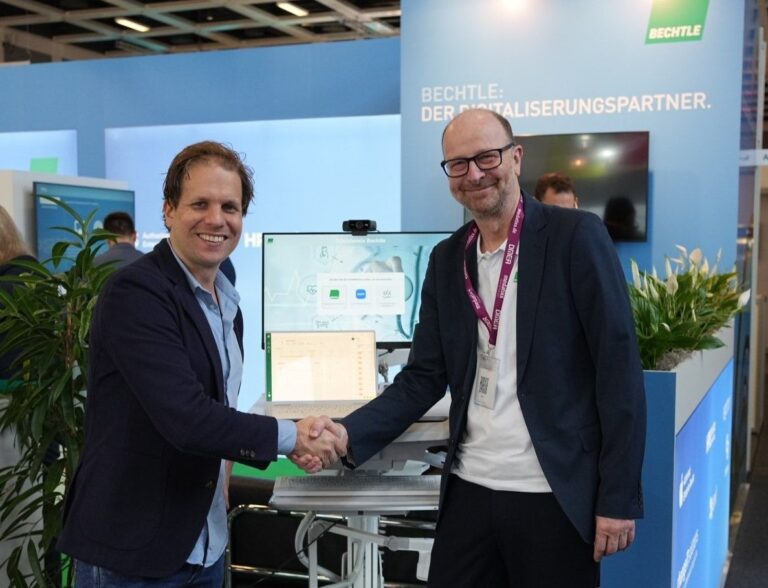 Picture caption: Your Research Co-Founder Kees Van Ooik shaking hands with Dr. Olaf Iseringhausen, Manager Healthcare Solutions at Bechtle, taken at the recent DMEA conference held in Berlin, Germany.
Press Release: 4/26/2023: Your Research enters into a strategic partnership with Bechtle
Grateful and excited to announce at #DMEA23 that we entered into a strategic partnership with Bechtle, a top IT solutions provider from Germany, to expand the reach of our powerful healthcare and research platform.
This partnership will make Bechtle a strategic reseller of the Your Research platform. The platform can be employed for two main purposes. First, as a digital health platform to improve patient journeys and outcomes. Second, as a tool to digitise and optimise data capture and research processes in clinical trials with a focus on enhancing the experience for both participants and study teams.
This collaboration will enable Bechtle to offer its customers a comprehensive digital health solution that can support research needs as well as enhance patient outcomes. Your Research's platform is a proven solution for clinical research and healthcare with the ability to facilitate data collection, engagement, workflow support, management, and analysis in a secure and efficient manner along the total patient journey.
"We are excited to partner with Bechtle and bring our cutting-edge research and healthcare platform to a wider audience," said Your Research CEO, Kees van Ooik. "We believe that this collaboration will help drive innovation in the healthcare and clinical research industry and ultimately lead to better patient outcomes."
"Bechtle is committed to providing our healthcare customers with the latest and most innovative digital solutions that help improving healthcare," said Dr. Olaf Iseringhausen, Manager Healthcare Solutions at Bechtle "Our partnership with Your Research is a proof for this commitment and we look forward to working together to deliver value to our healthcare customers."