Enhancing Clinical Trials Through Re-Consent:
The Digital Revolution
Clinical trials are the cornerstone of medical research, paving the way for groundbreaking advancements in healthcare. At the heart of these trials is the principle of informed consent, ensuring that participants are fully aware of the study's objectives, risks, and benefits.
However, clinical trials are not static; they evolve, and so must the consent process. Enter re-consent, a crucial component in ensuring ethical and up-to-date participation in clinical trials.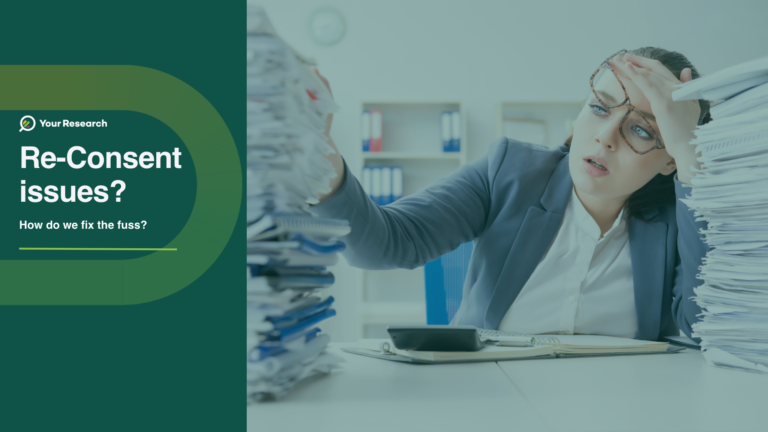 Re-consent, in the context of clinical trials, refers to the process of obtaining renewed informed consent from participants when significant changes occur during the course of a trial. These changes may range from modifications to the study protocol to the emergence of new risks or benefits. 
Re-consent is a means of ensuring that participants remain informed, engaged, and willing to continue their involvement in the trial.
The re-consent process typically involves the following steps:
Identification of Changes

Researchers identify any substantial changes in the trial that warrant re-consent. This may include alterations to the study's objectives, procedures, or potential risks.

Communication

Participants are informed about the changes through various means, such as written materials, discussions with research staff, or digital platforms.

Participant Questions

Participants have the opportunity to ask questions and seek clarification regarding the changes and their implications.

Revised Consent

If participants agree to the changes, they provide their renewed informed consent. In some cases, participants may choose to withdraw from the trial.

Documentation

The re-consent process is thoroughly documented, including the date, participant's signature (if applicable), and a record of the changes discussed.
Now, let's explore the top three challenges associated with re-consent in clinical trials.
Participant Understanding

Clinical trials often involve complex medical and scientific concepts. Ensuring that participants fully grasp the implications of changes can be challenging.

Timing

Re-consent may need to occur swiftly in response to unexpected events, creating time pressure for researchers and participants.

Participant Burden

Multiple rounds of consent can be burdensome for participants and may lead to attrition, affecting the trial's integrity.
Now, let's delve into the top three benefits of digital technology in solving these challenges.
Benefits of Digital Technology in Re-Consent
Enhanced Comprehension

Digital platforms can utilize multimedia elements like videos and interactive tools to simplify complex information, improving participant understanding.

Real-time Updates

Digital platforms allow for real-time communication, ensuring that participants are promptly informed of changes and can ask questions as they arise.

Consent Tracking

Digital technology simplifies the tracking (including notifications) of consent status and version, and provides accurate documentation while reducing the risk of incomplete records.
In an era of ever-evolving clinical trials, re-consent emerges as a critical process to ensure participant awareness and ethical conduct. However, it comes with its own set of challenges. Fortunately, digital tools such as eConsent have emerged as powerful solutions to address these challenges.
Implementing digital technology vastly improves the re-consent process in clinical trials. It enhances comprehension, facilitates real-time updates, and streamlines consent tracking. These advantages not only benefit researchers but also empower participants to make informed decisions about their continued participation in clinical trials. Ultimately, the marriage of ethical considerations and digital innovation promises to drive the future of clinical research toward greater efficiency and participant engagement.